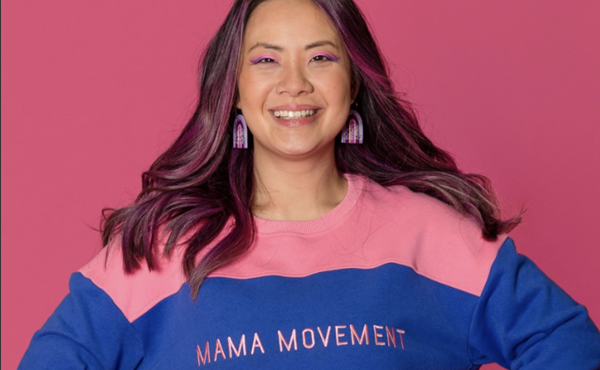 Mother's Day focus: sustainable brand Mama Movement
When Faye Tan quite her job in early 2020, little did she know a pandemic was going to impact the launch of her new business.
However, with everyone looking for lounge and active wear during the lockdowns in Australia, her new brand Mama Movement got a sales boost right from the start.
"What I had not anticipated when I quit my job in January of 2020, was that I'd end up launching the business right in the midst of a global pandemic," she recalls.
"In some ways, it actually sped up the pace at which the business took off, after all, everyone was shopping online, staying home in comfy activewear and looking for a little bit of joy and colour to break up the bad news cycle (which a colourful Mama Movement parcel definitely was)."
Indeed, the mum of two dived headfirst into her passion project, an activewear label that would inspire women to celebrate their bodies with colour.
"I have a history of disordered eating and since then have been on a crusade of self-love and wanting to make a difference for little girls, like my daughter, to grow up in a world where she will hopefully not have to go through what I went through.
"Both of these parts of who I am and my story translated into a dream to start an activewear label that was about joyful movement, with the belief that exercise is something we should do because we love our bodies, not because we hate them. And so, Mama Movement was born."
Mama Movement is a sustainable, colourful and high performance activewear brand that features Australian artists and celebrates self-love and community. Its customers also have the chance to become models and to showcase the bright activewear with confidence.
"In a highly saturated activewear market, we have been able to build a strong following very quickly because of our eye-catching bright colours and prints, a growing reputation for being the most comfortable leggings you'll ever wear, but most importantly for our amazing imagery featuring women of all shapes and sizes rocking colour," Tan enthuses.
"We are growing an incredible online community and each quarter we invite applications from our customers to become a 'model for a day' for us in the name of body positivity. We want to show how the clothing looks like on women of all shapes and sizes and to demonstrate that strong and beautiful is not one size fits all."
The brand grew rapidly online, with women excited to see a fresh colourful body inclusive take on activewear. What started as two boxes of sports bras and two boxes of leggings on the floor of Tan's garage, grew quickly to just under $300,000 in sales in the first year.
"Despite also giving birth to a baby last year, the business has continued to grow and as we approach our third anniversary, well over $1 million of colourful dopamine-inducing activewear has already been sent to women all over Australia. We have also finally evicted my home garage and now operate out of a commercial warehouse space, with a team of five mums, who all work part-time."