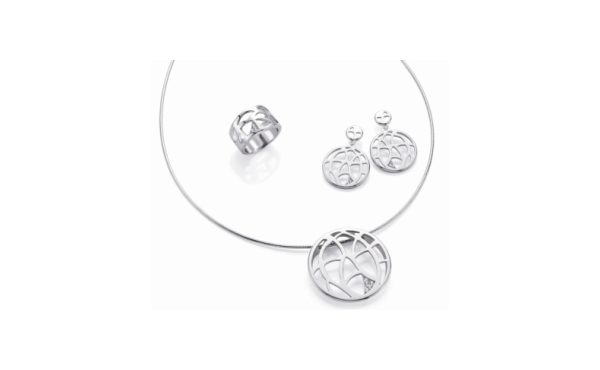 Passion for fashion
as the line between fashion and fine jewellery becomes increasingly blurred on the catwalk and on the street,
jewellery world
investigates australia's changing attitude to 'fashion jewellery'
defining 'fashion jewellery' isn't an easy task in the jewellery industry as many steadfastly believe that any jewellery not made from precious metals and stones is vastly inferior.
however, the attitude from customers could not be more different.
many women around australia, from wealthy and not-so-wealthy backgrounds, are now more than happy to wear a 'cheap and cheerful' bracelet from diva or equip with an 18 carat gold necklace or diamond ring.
clearly no one would seriously suggest that jewellery from stores like diva and equip is quality jewellery that will last a lifetime but that is exactly the point. many of the stores' customers do not want the jewellery to last a lifetime but merely to dazzle on their next big night out.
nonetheless despite the rising popularity and, perhaps more importantly, acceptance of such jewellery (diva now boasts over170 stores and equip has more than 100), no one would suggest that fine jewellery retailers should stock it.
there is however a strong case for fine jewellery retailers to stock, or increase their stock, of quality 'fashion jewellery' as consumers are increasingly demanding more fashionable, or should that be more affordable, jewellery options at traditional jewellery stores.
the rise of brands like pandora, thomas sabo and georgini patently demonstrates that consumers want to buy and wear more than traditional fine jewellery.
although some brands may argue that they are not fashion brands (perhaps in an attempt to distance themselves from the cheaper alternatives) it can also be argued that in many ways they are – like their counterparts in the clothing industry, brands regularly update their collections and are generally more innovative in their designs which are usually at least on-trend with the latest fashions, if not necessarily fashion-forward.
fashion or not?
for example, strictly speaking jo tory from najo doesn't classify her sterling silver brand as 'fashion jewellery' but then concedes that she is "becoming more of a fashion brand".
"when people talk about fashion jewellery i think 'oh my god diva' but you know i love fashion and i am releasing two 300-piece collections every six months so i guess i am actually a fashion brand – if long necklaces are in fashion we get them in.
"we're not enslaved to fashion trends but we will certainly observe them and take the pick of the influences."
she believes that consumers' increased demand for "more interesting designs" and "fashionable jewellery" is largely due to "branding and exposure".
"i don't think we (australians) are nearly as conservative as we used to be as buyers.
"before if we wanted a good piece of jewellery we'd go into a store and buy a solitaire diamond on a chain or whatever but now we want something more interesting.
"and we are confident to buy something different as are now more exposed to such designs and there is more of an acceptability of different designs due to branding."
similarly helen hagerty, operations manager from tuskc, doesn't readily identify the stainless steel brand as 'fashion' although there are "fashionable pieces within the collection".
"we're definitely not fine jewellery and we certainly have fashion appeal but that is not our only selling point.
"we are looking to be a comprehensive steel jewellery brand and that means there are fashionable pieces within the collection as well as very classic pieces.
"we have some pieces that we have for 12 months and others that are really bedded down and that we will have for a long period of time."
hagerty believes fashion jewellery is growing in popularity largely due to design and price point.
"customers can have a lot of fun with fashion jewellery by being more extravagant with the size and the designs," she says.
"unlike a piece of fine jewellery, customers know they don't have to be able to wear a piece of fashion jewellery year in year out.
"we certainly have such eye catching designs in our collection but we are really aiming for a longer term contemporary look.
"there is nothing precious about diva and the like whereas the robustness of our jewellery is that it will wear and last for a long period of time."
she surmises that a key driving force for tuskc customers is "definitely price point".
"people can afford to buy it and they can afford to have numerous pieces because it doesn't have an 18carat gold price tag although it looks like it."
meanwhile unlike hagerty, georgini director gina kougiassays is happy to identify her collection of sterling silver, semi-precious stone and cubic zirconia jewellery as 'fashion'.
"we are a fashion brand rather than a fine jewellery brand," she declares.
"we are affordable luxury for the mass market so we appeal to the woman who aspires to wear cartier but can't afford it –she can find something similar in georgini at a fraction of the price."
"due to the rising cost of living and the gfc, priorities are changing and australians are definitely saving more so when they want to feel a little special and splurge on something and they want it to have perceived value of luxury like georgini."
likewise arctic wolf director christine barry readily identifies her brands (chamilia personalised jewellery and diamonfire simulated diamond jewellery) as 'fashion'.
"there is fashion jewellery at all different levels," she says, "and mine is high level at a reasonable price.
"there will always be people who can afford to indulge in fine jewellery but the masses don't have that luxury but they still want to look good.
"they want quality– they don't want jewellery that is going to give them green ears!" she laughs.
"they want to buy something that looks good without worrying about being able to make their next mortgage payment.
"times have changed. we are living in a different era. before people used to save up and buy their fine jewellery but now everybody wants everything 'now! now! now!' although they may not be wearing it in six months' time so they need affordable fashionable jewellery."
"whether we like it or not brands are in fashion.
"everybody wants to belong and branded jewellery enables people to feel they belong.
"basically it's simply a case of 'faking it til you make it' or 'keeping up with the joneses'."
phil edwards, the owner of duraflex (distributor of thomas sabo and spinning jewellery), is another who enthusiastically describes his brands as 'fashion'.
"thomas sabo and spinning jewellery are both affordable branded fashion jewellery," he says unreservedly.
he says advertising, affordability and celebrities have made fashion jewellery much more desirable.
"branded fashion jewellery is not for the real upper-end of the market but most jewellery stores should realise there is a place for it.
"brands like ours are good quality – we're not talking diva or costume jewellery.
"good fashion brands, which are supported by international advertising and promotions, put jewellery stores on the map as a destination for people to shop in.
"this is something that jewellers simply can't buy for themselves."
arthur pike from cashelle is another who unhesitatingly describes his branded jewellery ranges global heritage, concordia (freshwater and shell based pearls) and minka as 'fashion'.
"nowadays people want jewellery that is fashionable and different − and good quality," he says.
"however when buying fashion jewellery people feel more comfortable buying a piece with a brand tag rather than just a generic charm or necklet."
he says retailers selling fashion brands benefit from the product promotion (advertising, brochures, pos, etc) produced by the manufacturer.
"branding fashion jewellery makes the retailers' job much easier."
antoinette byrne, the marketing manager for established brands is also happy to classify her three brands (rush jewellery, hot diamonds and m+y steel) as fashion jewellery.
"the term 'fashion' jewellery once represented 'cheap' and 'poor quality' in the eyes of the traditional jeweller," she observes, "but branded jewellery has quickly changed this perception and its contribution to the success of a jewellery store is now significant."
"hot diamonds was the forerunner in the branded jewellery concept with latest designs, premium packaging, quality pos materials and affordable price points. the whole game has changed now− if you're not in branded jewellery on some level, you're not in the game.
she says there is no doubt that the quality and growing profiles of brands such as rush jewellery and hot diamonds will continue to "challenge and encroach upon the market for fine jewellery".
"at established brands, we want a greater share of the customer's jewellery box− superior quality at affordable prices that keeps them coming back for more options, giving them more choice when they accessorise each day."
conversely, stephen brown from rj scanlan (distributors of teno, sueono and soho) does not identify his brands as 'fashion'.
"the difference between fashion and branded jewellery is that fashion is here today and gone tomorrow while branded jewellery with a quality design will last for years," he explains.
"we might follow trends, but trends are different to fashion – it might be a trend to use red stones this year or rose gold but that is a trend, not fashion."
"i see fashion jewellery at the cheaper end of the market and although we are not in the fine jewellery industry i think we're not in fashion as much as style."
interesting pandora, the most fashionable (or popular) of all the brands, on the australian market is another which does not see itself as 'fashion jewellery'.
in fact, pandora marketing manager jeff burnes is adamant that pandora is "definitely not" a fashion jewellery brand.
"pandora is handcrafted jewellery made from genuine materials," he states. "fashion jewellery is generally perceived as neither handcrafted nor genuine.
"jewellers stock pandora because the designs of our products are hugely popular and are of the highest quality and available at affordable prices."
store attraction
while all the wholesalers jewellery world spoke to differed in their definition of 'fashion jewellery', all agree that quality brands attract more customers to traditional jewellery stores.
tory from najo concludes that while some retailers don't embrace branded jewellery and "stay stuck in that niche of traditional jewellery store" most realise that the fashion/fine jewellery line is starting to blur and that brands like hers are at the high-end of quality.
"najo is a very identifiable product with a different design edge and a different price point to traditional fine jewellery so it brings in a totally different demographic and thus increases sales," she says.
hagerty from tuskc says her brand acts as a "good cashflow product" for new and existing customers.
"our product is a lovely complement and it's a nice way to get those sales at the lower end without stocking a product that looks like its lower-end."
kougiassays from georgini believes that fashion brands like georgini can be the "bread n butter" for many jewellery stores.
"you can only sell so much gold and you certainly can't sell 10 diamond rings a day."
barry from arctic wolf says that most jewellery retailers now realise the importance of stocking fashion jewellery.
"you would be hard pressed to find a jewellery store without any branded jewellery in stock," she says.
"retailers are now realising that branded products bring in new customers in their store."
"although the customers might only make relatively small purchases at first, if the jeweller make an effort to build a rapport with them they could return to buy fine jewellery at another time."
byrne from established brands also believes that branded fashion jewellery is attracting customers into jewellery stores.
"just as big name watch brands have been driving traffic into jewellery stores for decades branded jewellery is now a major drawcard for shoppers," she says.
"it allows the jeweller to better service its existing customer base with a greater selection of products, whilst attracting new customers to its store.
similarly edwards from duraflex believes that retailers now realise the importance of stocking branded fashion jewellery.
"when we first launched thomas sabo everyone said we were too expensive and that they didn't want to pay a premium 'just for a branded box' but they now realise that the value of the brand doesn't just include the branded box but all the consumer awareness bought by advertising in national fashion magazines like harper's bazaar and vogue."
brown from scanlan concludes that brands help define a store for consumers.
"when someone walks into a jewellery store for the first time they decide on the quality and reputation of the store by the products on display and if there are no branded products on display this is difficult to do – but if there are quality branded products on display they immediately enhance the reputation of the store so the message is 'i am a good enough store to stock this particular product'."
fashion trends
so are the brands currently dominating jewellery sales in australia fashion jewellery or simply fashionable brands?
the answer is largely irrelevant.
the fact is the australian jewellery industry is changing rapidly and the latest fashion – or more accurately trend – is definitely a move to more affordable jewellery options.
if in doubt take a quick walk around the next jaa jewellery fair or your local shopping centre.
'fashion jewellery' is in fashion – and so are brands.