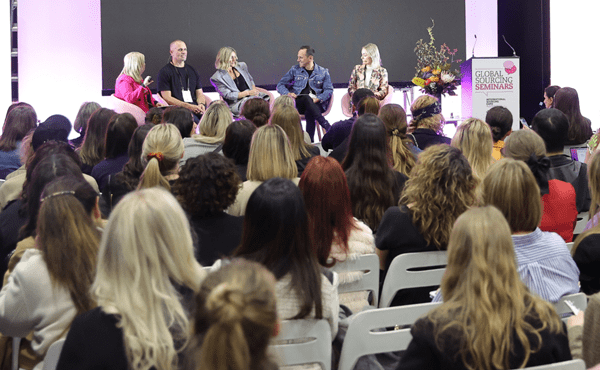 Your guide to the ultimate product sourcing checklist
Conscious shopping is a movement that carefully considers the environment and communities in the creation and marketing of products and is becoming more prevalent in today's global market.
Many brands are searching for guidance in balancing this mindset while trading and dealing with suppliers.
Elizabeth Formosa, founder of Fashion Equipped and show ambassador for the Melbourne Global Sourcing Expo, believes that professionals who want to get ahead are in need of resources that detail how to find and partner with the right suppliers.
"I am so thrilled to be the show ambassador for the Global Sourcing Expo (GSE) this year, especially because it brings together 900 manufacturers and suppliers from 20 countries to showcase the latest in textiles, homewares and apparel," she enthuses.
"This is the ideal platform to connect with potential suppliers and buyers and take the next step in your sourcing journey. In addition, the Global Sourcing Seminar series offers attendees the opportunity to learn from the country's leading sourcing experts."
However, she cautions that finding suppliers who can meet one's business objectives can be tricky.
"It's so important to be prepared. Having a checklist in hand to guide your engagement with expo exhibitors is essential," she adds.
Checklist: build your sourcing criteria
Prepare a clear product briefing―your potential supplier needs to clearly understand what you are looking for.
Ideally you would have your sketches, construction details and specifications prepared.
At this stage, just show the supplier enough information to help support your explanation. Any confidential information should not be shared at this time.
Prepare your target cost prices―understanding what you can afford to pay for your products.
Know what minimum order quantities you are looking for. Ideally have an inventory plan developed that outlines the number of styles per colour, by size and total quantity for each.
Consider the quality standards your business requires. Good quality is very subjective so consider how you will communicate your expectations to a supplier.
Consider how you intend to manage your quality control―will you visit the factory or outsource this role?
Based on your requirements, ask about the sampling process and costs―how long will the process take and how much will this cost?
Ask about production lead-times and be aware there is a production process that needs to be followed. This will include fitting samples and approving fabrics, colours and trims.
Ask about fabric testing relevant to your product such as shrinkage, colourfastness or pilling. These tests usually come at an additional cost.
Depending on the country of origin, you may need to consider duty rates, taxes and customs clearance.
Do your research and due diligence on sustainability and ethical sourcing standards. This includes a focus on people and planet, and being prepared to discuss your code of conduct, factory audits and any certification and accreditation you may require.
You may need a freight forwarder to handle your logistics including shipping, handling, customs clearance and delivery. Alternatively, ask your supplier if they will ship to your door.
You need to consider the insurance of your goods while in transit (Such as Marine or In Transit Insurance).
Ask about payment terms―often this can be a 30 per cent deposit upon order placement and the balance upon shipment. Speak to your financial professional about the most secure payment methods.
Ensure you have a process in place to inspect finished goods prior to final payment and before bulk shipment.
Referrals and recommendations bring credibility―ask to connect with other Australian customers.
Have you taken steps to protect your intellectual property in the country of manufacture?
Ensure you work towards developing and implementing a supplier agreement/contract prior to paying any deposit or placing a bulk order.
Ensure you know who you are trading with. Is your supplier or contact a factory, trading company or intermediary? This is crucial information.
The goal is to establish a credible, transparent, ethical supply chain that supports your business. It is your responsibility to verify any new supplier before commencing trade.
If you find a supplier that has good potential to work with, it is highly recommended that you start slowly. Initiate a quotation and a sample, then assess the results. You can build your ongoing working relationship from there.
The Melbourne Global Sourcing Expo takes place from 21-23 November 2023 at the Melbourne Convention & Exhibition Centre.